Sweet Dreams in Sheepy PJs, Anyone?
Our Night Shift were featured in The Wool Channel, a platform, publication, and community dedicated to the extraordinary world of wool. Read more.
Back in July, we talked about wool's power to lull us to sleep. Here's the link in case you missed it.
These claims about wool and sleep aren't just marketing pap. Hard science backs them up.
One sleep study conducted by the University of Sydney looked at how the fabrics we sleep in could help us thermoregulate in an ever-warming world. At 86ºF/30ºC and with a 50% relative humidity, those subjects wearing wool sleepwear reached REM sleep faster and stayed in it longer than those wearing polyester or cotton, with fewer instances of thermal stress leading to wakefulness and discomfort. Those aged 65 and older fell asleep within 12 minutes on average in wool compared to 22 minutes for polyester or 27 minutes for cotton.
Naturally, this leads to the question: Where can I find wool pajamas?
Whither Goeth the Sheepy PJs?
I've been looking. At first, my searches led to dead ends. And then, to blends.  
The Dagsmejan sleepwear looked promising, but the high Tencel content left me clammy. Not only that, but the fabric began pilling after just a few restless nights. I briefly got excited about Woolino until I realized it was just for babies. Finally, I settled on an oversized WoolX T-shirt, but the nylon content wasn't ideal. WoolX now offers pajamas—but they're $160 and only contain 48% Merino. The rest is 48% recycled nylon and 4% spandex. Nope, that just moves us further in the wrong direction.
Then, about two weeks ago, I got a direct message from my Instagram friend Agnes. "Have you heard of these guys?" she asked. She linked to Chill Angel, and I set to work.
The Chill Angel Story
Chill Angel was founded by Betsy Seabert in Steamboat Springs, Colorado. Betsy's sleepwear story began in 2014 when she lost a son and was diagnosed with cancer. As I'm sure you know from your own life experience, when things are hard, sleep becomes a critical tool for respite and recovery. When sleep is that important, you start to notice what helps it and what doesn't. Betsy discovered that when she wore wool, she slept better.
You or I might pull out our sewing machines and hope for the best, but Betsy could do one better. She'd spent decades working in the outdoor apparel industry, including holding leadership positions at wool powerhouses Smartwool and Point6. She had the experience, network, and know-how to turn her idea into a whole line of clothing—which she launched in late 2016.
More than PJs
Chill Angel's offerings sit somewhere between sleepwear, loungewear, and activewear. You'll find things like long-sleeved shirts and short-sleeved shirts, camisoles and tank-tops, shorts, jogging pants, and lounge pants.
The fabric in all Chill Angel garments is a super-soft, tightly knit 16.5-micron New Zealand Merino jersey made at a Woolmark-certified mill in China. What excites me most? It's all 100% Merino. Not a drop of pulp or plastic to be found. Finally.
Since my interest was sleepwear, I chose a simple spaghetti-strap, knee-length nightie with contrasting trim, called the Night Shift. It's available in three colors and retails for $99. I chose the peppermint, which appears to be out of stock now. (Sorry about that.)
Making Contact
My order arrived wrapped in tissue with a card from Betsy. I emailed her a proper introduction because I needed to find out more. I also wanted to give her a heads-up that her website might see more traffic than usual.
She wrote me back right away—and we immediately started talking about fabric.
"I am a believer in the benefits of not blending the wool," she said, "although almost every other brand does it. The cost is certainly cheaper to blend, but I don't think it is worth it. I can feel the restricted breathability with blends." (I'm not crazy after all! I can too.)
Despite the pure Merino content, which is innately more expensive, the pricetag on these pieces remains within the realm of mostly achievable—ranging from around $59 to $139 depending on the item.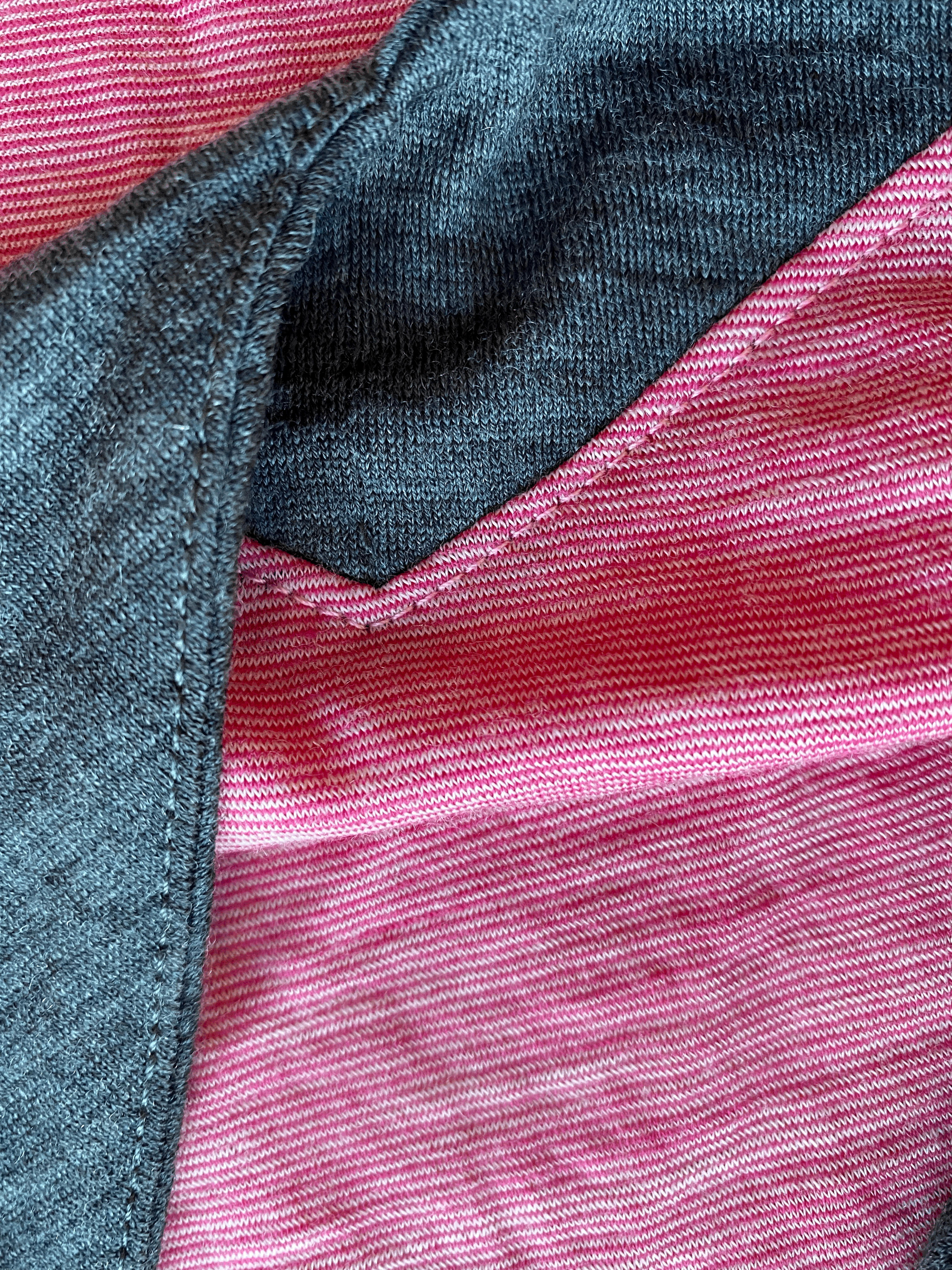 The design isn't just a boxy rectangle; it has a hint of shape to it. Seams are given a sturdy overlock finish, with trim and bias binding in a contrasting color. It's well-made, and it looked even better this morning than it did last night before I went to bed. There was nary a wrinkle on it. And I slept well too.
Size Matters
As with all good things, there are limitations. Only half of American female consumers will be able to wear most of the clothing from Chill Angel. Sizing runs from 0 to 14, or a waist circumference of 23 to 38 inches. According to the CDC, the average female waist circumference in the United States is now 38.7 inches. Keep in mind that this is a stretchy wool jersey fabric, so there's leeway.
The one exception also happens to be, in my opinion, the cutest nightgown in the Chill Angel line-up. It's the Rhiannon Nighty, sized exclusively for 1X, 2X, and 3X.
Some garments are made at Woolmark-certified factories in China, but I was surprised to see a "Made in the USA" tag on my nightgown. "I plan to produce more in the U.S. and continue to work on this," Betsy told me, "especially now with the growing uncertainty in the world."
Another limit, if you can call it that, would be color selection. Gray and black prevail, with a few exceptions (such as the lounge pants, the power nap shirt, and my out-of-stock peppermint). But when you consider the minimum orders and product runs required to keep things affordable, and the fact that this isn't some deep-pocketed multinational corporation, it's just one woman with a mission and a commitment, trying to make a difference...it's all good.
"It's the action, not the fruit of the action, that's important. You have to do the right thing. It may not be in your power, may not be in your time, that there'll be any fruit. But that doesn't mean you stop doing the right thing. You may never know what results come from your action. But if you do nothing, there will be no result."
― Mahatma Gandhi
Thank you, Betsy, for doing something.